Our Work
State Library NSW
User Interface Design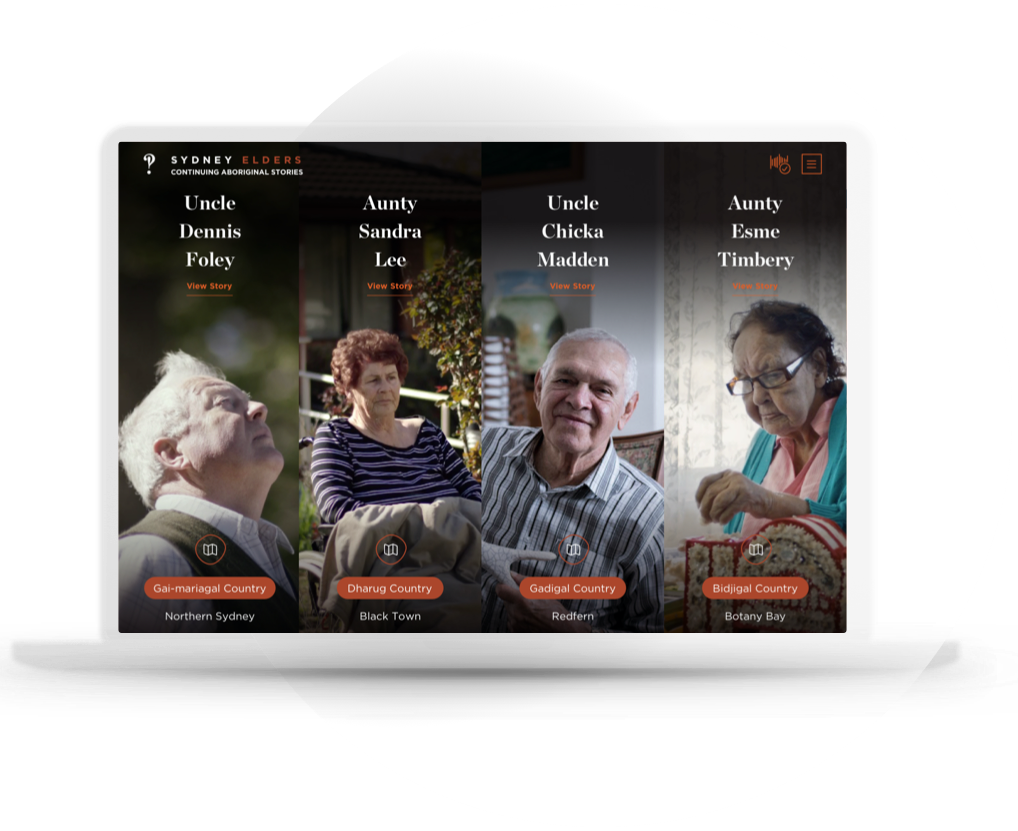 01//
The brief
The SLNSW Sydney Elders Project was conceived to translate the physical onsite exhibition into digital space while retaining and respecting the spirit of the original installation. An online version will tell the same stories and create an enduring presence for the exhibition content.
The Sydney Elders exhibition engaged four Elders (traditional owners) to tell their stories and how they have continued the legacy of their ancestors by actively creating the city through their contributions. The exhibition showed Sydney through the Elders' eyes and provided a unique insight into Aboriginal Sydney.
02//
Our Approach
Design honours the content
The goal of the online design is to retain the focus on the Elders and create a sense of intimacy: the Elders are generously sharing their stories, talking directly to listeners. The recreation of circular storytelling and the overlaying of voices used in the onsite exhibition is to be presented online in a thoughtful and sensitive way.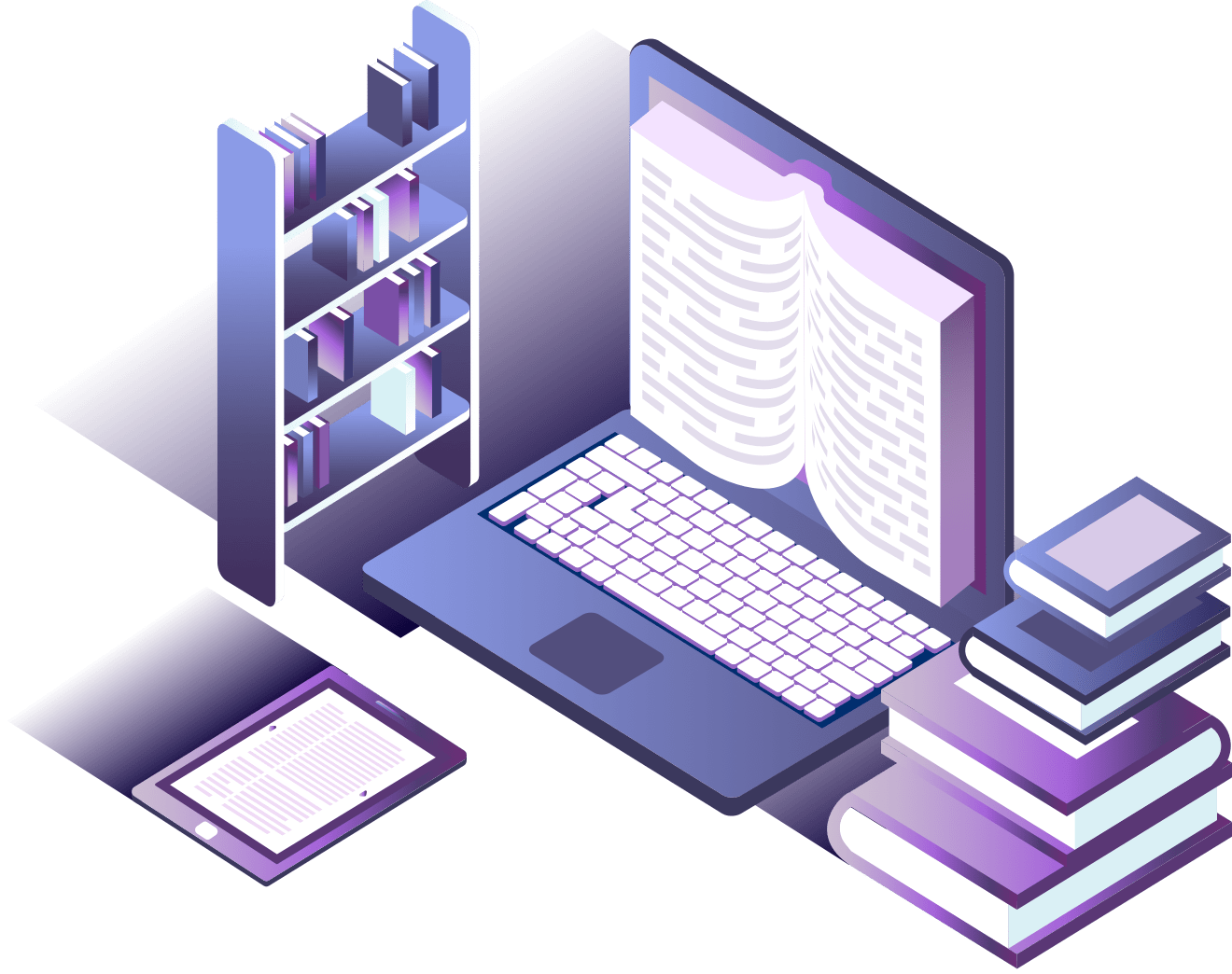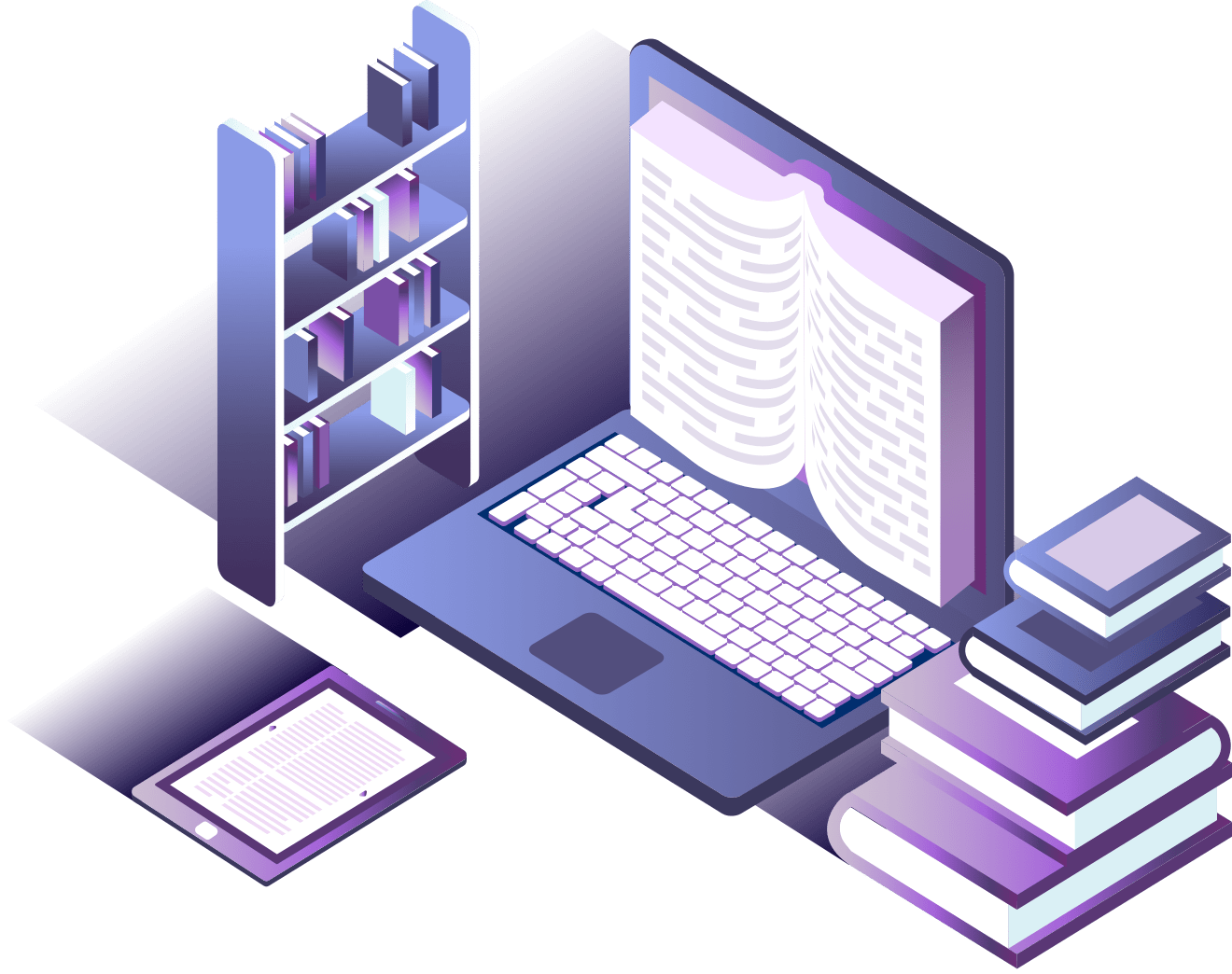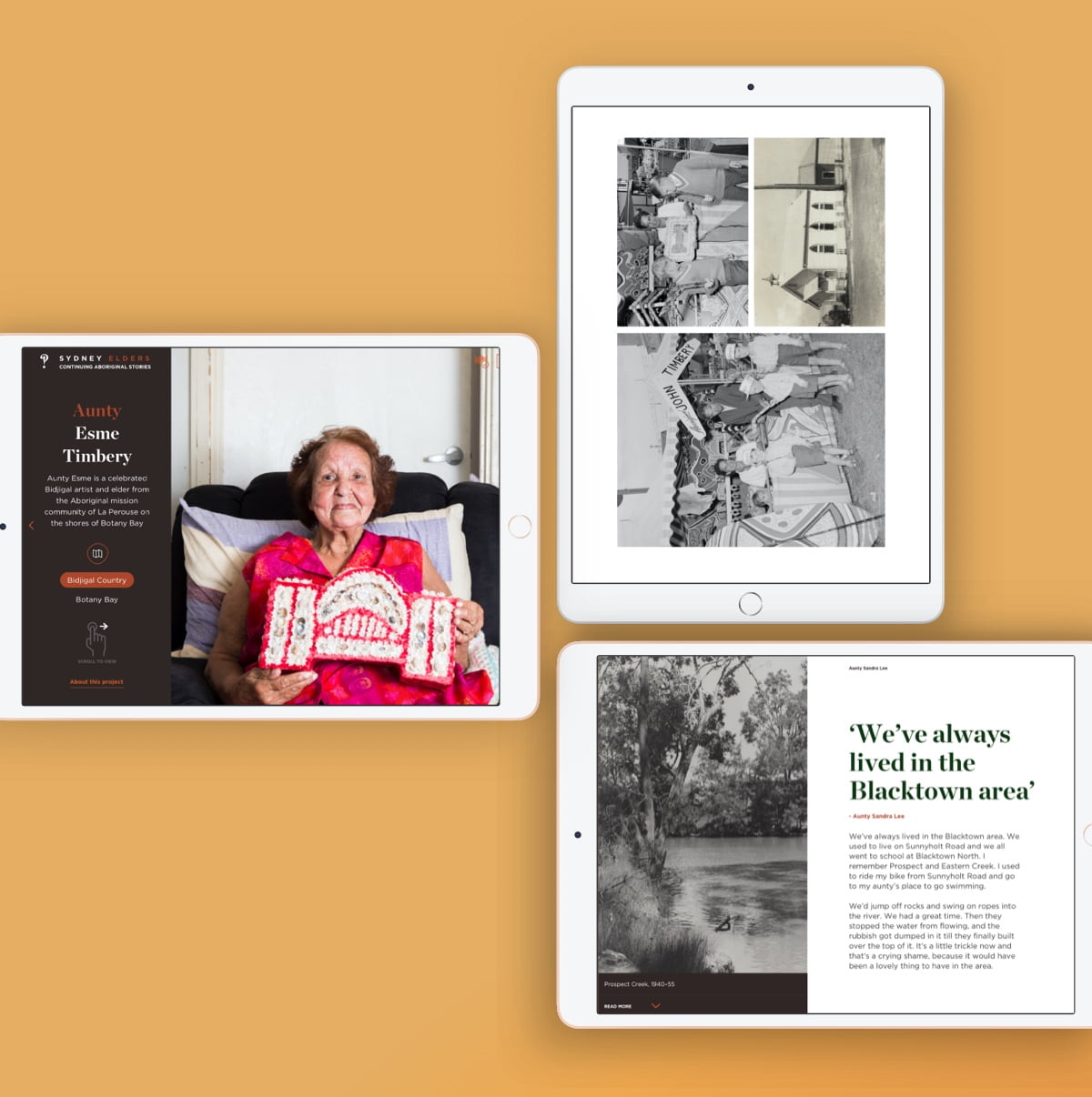 Visual Design Solution
Retain character of the original exhibition in tone, colour and style
Translate a multi-directional, mixed media experience into a digital space
Retain the concept that Elders are conversing with each other, no preference given of one Elder over another
Create circular navigation where one story flows into another with no beginning and end
Never lose the presence of an Elder - through ambient sound and narration which continues as one views the related artefacts
03//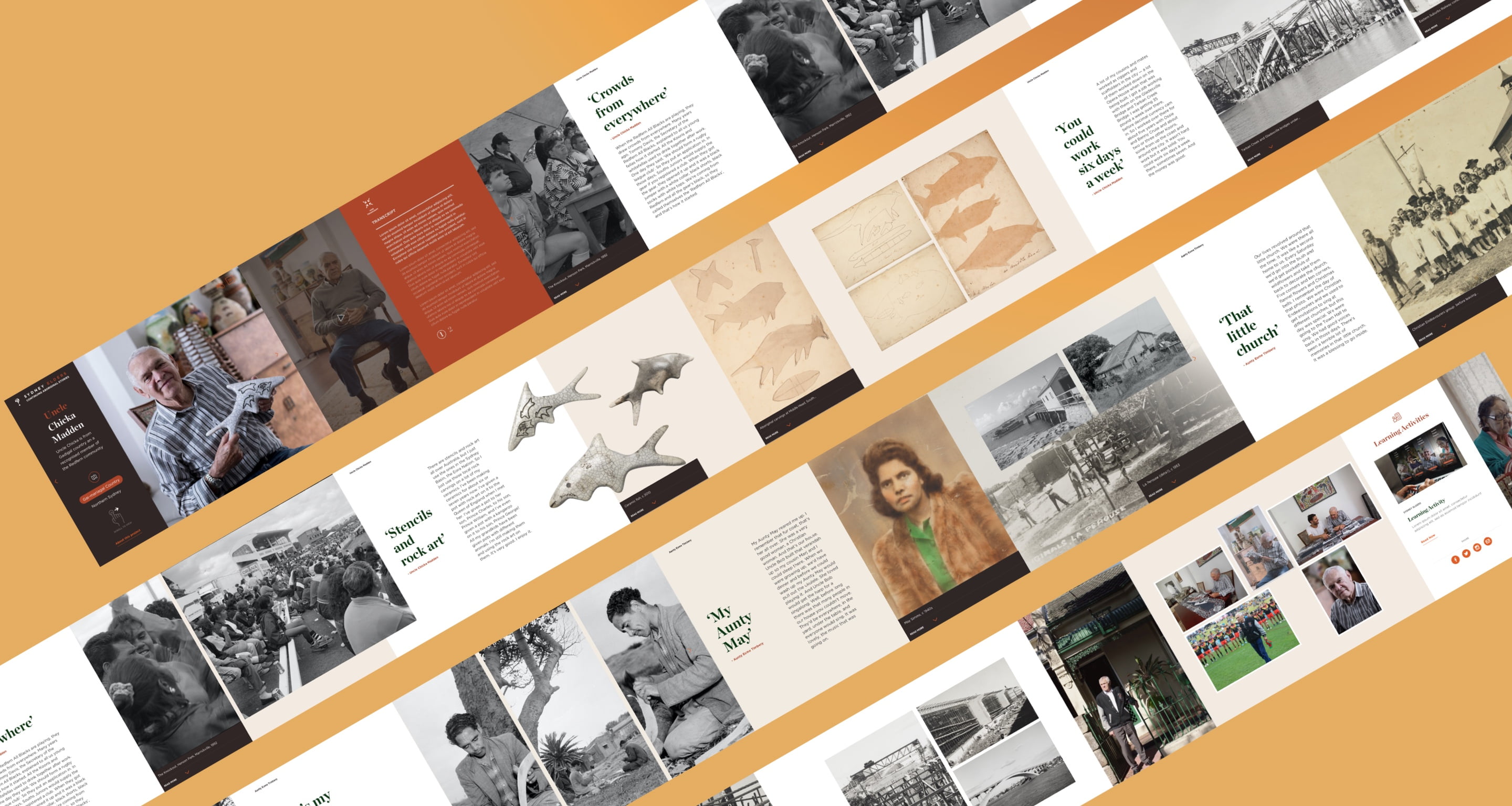 04//
Outcomes
Extending physical spaces into digital experiences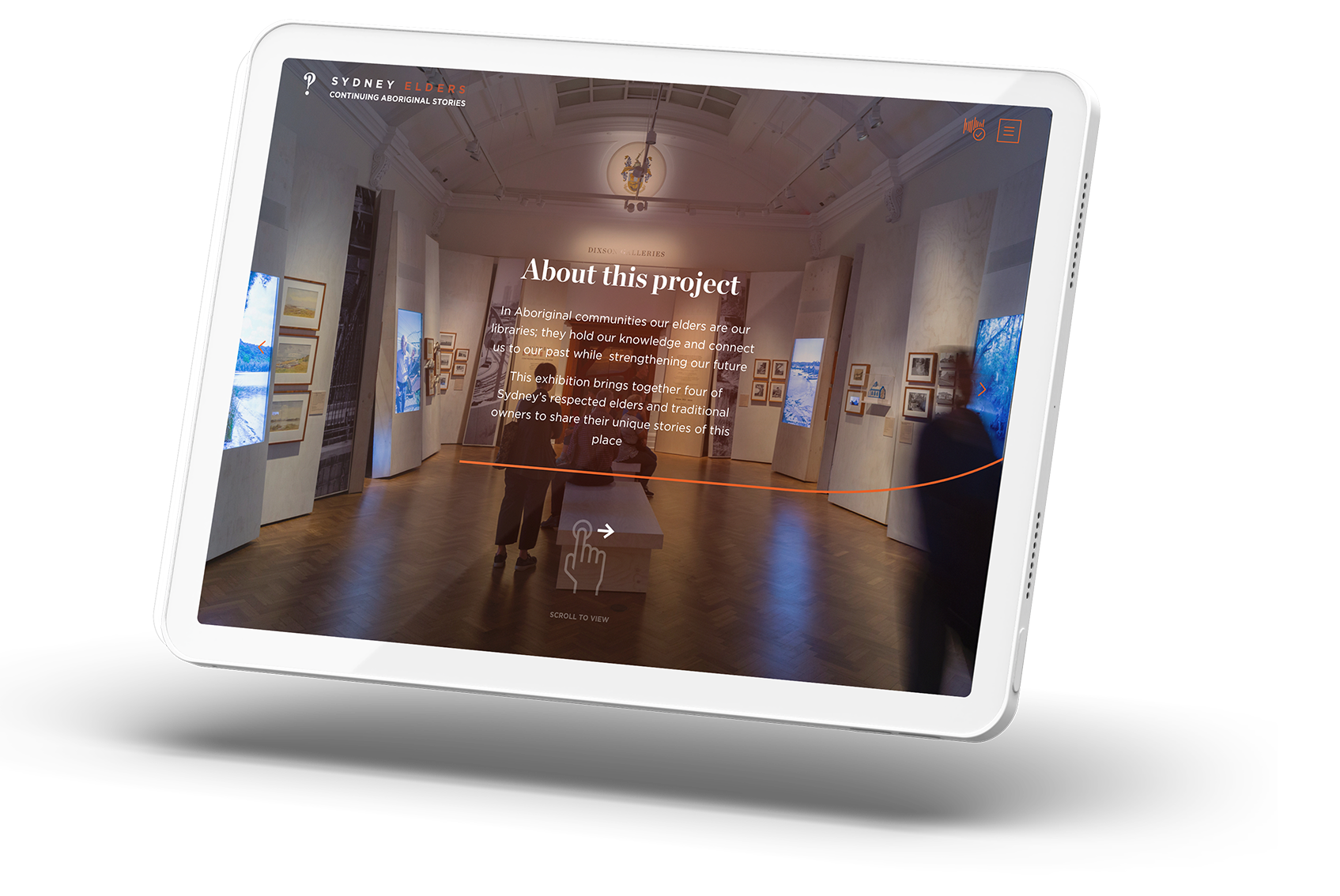 Stakeholder interviews to understand the vision and context of the exhibition to design an accurate digital representation

Benchmarking against other similar solutions for digital story-telling and exhibitions to create a rich narrative experience

A circular side-scrolling website that allows continuous navigation through the four Elder profiles, no one has precedence
Sensitive translation of the topic through art direction adding nothing extraneous to the digital build

Extended access to remote users and allow for extra layers of information and linking to SLNSW Collection items

Responsive design enabling rich interactive experience on larger screens and easy scrolling on mobile
05//
Results
Extended access to the exhibition

Enduring digital presence

Rich narrative experience

Enhanced onsite visitor experience
Connect audiences to the SLNSW Collections and stories through a content-rich online exhibition that extended public access